Welcome to St. Anne's Academy for Girls.
Thank you for visiting St. Anne's Academy website to learn more about our Morning (9a.m. to 1p.m.) Tutelage (five to seven students) Education Program. Students attend class Monday through Friday from 8:30 .m. to 1:00p.m. They receive a high-quality, hands-on instruction in a class size of no more than five to seven students.
The Trivium
St. Anne's instruction is based on the Classical Christian tradition of the Trivium. The Trivium is the method first developed in Ancient Greece and adopted by Constantine as the basic method of education and widely used in Europe and America producing some of the greatest scholars in the West.
The first stage of the Trivium is the Grammar Stage in which children are steeped in foundational knowledge, learning facts through chants, rhymes and song. The second stage, Logic begins in seventh grade. Students learn how "why" behind the facts and develop sound arguments. In the Rhetoric stage, which begins in 9th grade, students learn to develop presentations based on the acquired knowledge and logic in the previous stages.
In the 2015-16 school year, we have seats open for Kindergarten, first and second grades, and sixth and seventh grades. Waiting lists are available for other grade levels.
Great Masters & Great Classical Composers
AFTER SCHOOL PROGRAMS: Students may participate in a Fine Arts program that includes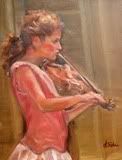 exposure to theGreat Masters and Great Classical Composers. Piano lessons are also offered to children ages five through third grade.
All-Girls Environment
Impressive research overwhelming confirms that girls learn best in an all-girls environment. Compelling data validates the value of an all-girls education program. Please visit our "Why Girls?" section to learn more about the compelling data that confirms girls thrive and do exceptionally well in a single-sex environment, particularly in math and science.